Page updated 12/9/05 - sorta. Major links are good, contacts probably are not.
The SCA is an international organization dedicated to researching and recreating pre-17th-century European history. To this end, we "study" the middle ages by actually doing the skills and arts of the time, such as cooking, metal work (including armor) and a simulation of tournaments & wars. Our weapons are made out of rattan, a fibrous wood to help prevent (serious) injuries.
| | |
| --- | --- |
| | This is my device, as it is registered within the SCA. The blazon goes like this: Per chevron, or and sable, two pegasi salient respectant and a tower counter-changed. What's that mean? Well, look at the picture... per chevron, or and sable - the chevron is the black (sable) point coming up into the yellow (or) field... two pegasi salient respectant - the flying horses of greek legend, launching themselves into the sky facing each other and a tower counter-changed means a yellow tower on the black field. |
Per chevron, or and sable, two pegasi salient respectant and a tower counter-changed.
Robert's SCA Page!
Yep, you've never seen so many orange cones, since you came to the internet. I'll make this page pretty later. Really....
ARMOR...
This is a link to a description of my latest armor project. It's coming along nicely - I've started lacing the plates into the fabric. Jack.html
Update: the front is 3 plates short of being done (about an hour of work, including stitching up the side) Update: the front is done, except for sewing up the side. The back has now been started. Trying to decide whether to sew the shoulders, or strap them for more adjustment options.
I've started a page for some armor resources, covering materials at present. Go Here for rivets, leather, etc.
If you'd like to buy some armor, I recommend Mandrake Armory. Roderick produces good quality armor, and delivers it when he says he will.
Here is a picture of the belt pattern that I've used for years. The original design was given to me by Countess Cymber of the Dark Waters. The rise on the hips should be relative to the fighter; a male only needs a little rise, where a curvy female might need more. I experimented with paper patterns until I got something that seemed to lay right, then cut the leather. It's been in service for years now, and is very comfortable. The "crossed straps" design for holding up the legs is my own. It keeps the leg from rotating, allows free movement and doesn't put undue stress on the straps and rivets. The straps lasted until they rotted away from sweat over a period of several years of hard usage. If, unlike me, you actually took care of the leather, they would probably last even longer.
Below is info about the main places I play this game. They're in the order that I frequent them the most. Caerthe is home, though I play an awful lot in Caer Galen as well.
The local group info below was blatantly plagiarized from the Outlands Kingdom web page. I take no credit, other than cut & pasting... ; ).
Info current as of 4/21/99 - I wouldn't count on it after that date without calling...
Caerthe, Barony -- Denver metro area, Colorado
Seneschal: Lady Anastasia MacBraidaigh (Christine MacOrin), 5525 Saulsbury Ct, Arvada CO 80002, (303) 940-7746,
Email: Christasia@aol.com
Fighter Practice: Mondays 6:30 - 9 pm at Mrachek Middle School in Aurora. May 3rd fighter practice will be in Berkeley Park -- east of Lakeside Amusement Park right off I-70 and Sheridan. Contact with Lady Jorunn nic Lochlainn (Cathie Brailey) 303-421-0689 jorunn@qadas.com (ed note: practice is in the upper gym while at Mrachek)
Fencing: Same place as heavy weapons. For additional info for Tuesday practice contact Lady Rivka Vladimirovna (303) 306-6213
Scottish Gaming Practice: Contact Lord Ivan, (303) 940-7746, Email: MacIvan@aol.com
Fortress: $8.50/yr Lady Maire ni Chonaill (Kristin Sponsler), 2524 S. Acoma St., Denver, CO 80223, (303) 722-9971, Email: mairec@uswest.net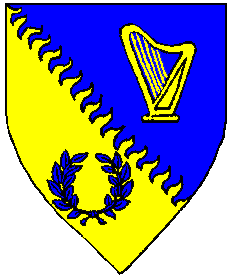 Caer Galen, Barony -- Boulder County, Colorado
Seneschal: Maistre Louis-Phillippe Mitouard (Ben Baron) 4502 Driftwood Place, Boulder CO 80301, (303) 581-9814,
Email: seneschal@caer-galen.outlands.sca.org
Fighter Practice: Wednesday nights at the Balch Field house on the CU Campus at 7 pm. Contact Lord Valentine Michael, (303)661-9682
Email:marshal@caer-galen.outlands.sca.org
Dorinda: $8.50/yr, Lord Frithuric Ulman (Karl Kieninger) 2035 Ridge Drive, Broomfield, CO 80020, (303) 464-9587,
Email: chronicler@caer-galen.outlands.sca.org

Unser Hafen, Barony -- Larimer/parts of Weld Counties, Colorado
Seneschal: : Lord Gwilim de Glamorgan (Mike Lambert), c/o Barony of Unser Hafen, PO Box 271487, Ft. Collins CO 80527, (970)407-1283, Email: mlambert@frii.com
Fighter Practice: Sundays 1-5pm at City Park. Contact Eric Silkriulf (970)377-9261, Email: ETULP@aol.com
Tosspot: $8/yr, Lady Arianrod ni Conchobhar (Amber Ebert), 1623 Larch St, Ft. Collins CO 80526, (970) 663-1060, Email: skerina@juno.com
Want to join the ring?
Learn more about it here.